A high quality deep frying pan is a staple item for any practicing home chef. For anything from sautéing to roasting, everyone needs a deep frying pan with a lid. However, there are so many factors to consider when searching for the perfect frying pan it can feel completely overwhelming. The variety of pans on the market is staggering. The last thing anyone wants is to spend a chuck of money for something that won't last or doesn't work for your uses. It's important to keep a few key questions in mind while searching for your perfect pan.
What size of pan do you need?
Are you usually cooking for one or do you have a large family to feed? While you might think frying pans are a one size fits all affair, this is far from the case. Deep frying pans typically range from 8-16 inches in diameter. Another helpful measure to consider is the quart size. The quart size will let you know the volume of liquid or food the pan can contain. Most deep pans with lids will range from 3-6 quarts. The average home chef will want to have at least one 5+ quart pan at their disposal.
What type of surface do you need?
Most people seeking out a deep frying pan will want it to have a nonstick surface. However, not every nonstick coating is created equal. In the past, Teflon reigned supreme, but these days there are many more options on the market. Ceramic coating, anodized steel and enameled cast iron are all popular options that are becoming more prevalent. Keep in mind what you are hoping to cook as well as which tools you will be using on your pan.
Does a frying pan need a lid?
That is going to depend on what your main use for your new pan is going to be. Are you hoping to do some deep frying at home? You will most definitely want a pan with a lid. If you are using the pan to stir fry, it's probably not necessary. However, most of the best deep frying pans on the market already come as a cookware set. To get the most utility and bang for your buck, it's best to choose a pan and lid combination so the perfect lid will be there when you need it.
Keeping all of these factors (and more) in mind, we have prepared a list of the 3 overall best deep frying pans with a lid available today.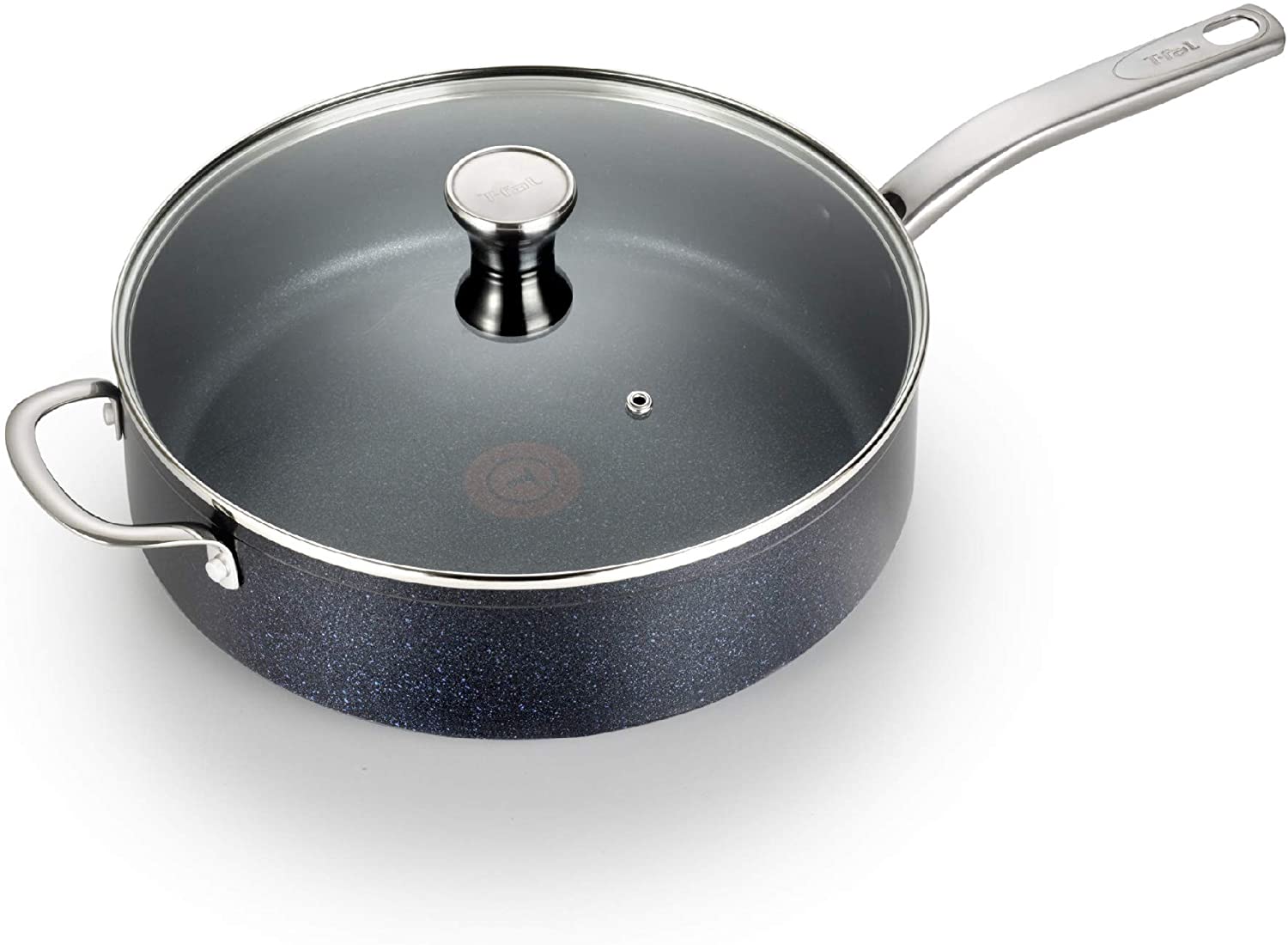 T-fal HeatMaster Nonstick Thermo-Spot
This 5 quart, 12-inch deep fry pan with a glass lid is an economical choice for everyday cooking.

Despite being the least expensive option on this list, this pan is a greate piece of kitchen equipment. Non-stick surfaces have come a long way from the days of yore when they were seemingly scratched by looking at them wrong! This pan features 3 coats of T-Fal's proprietary "sapphire infused" non-stick coating that is safe to use with metal utensils. It also boasts a thick stainless steel induction base that helps conduct the heat evenly across the pan's surface.
Perhaps the most interesting feature we found on this deep frying pan is the "Thermo-Spot" that changes color to indicate the pan has reached a temperature of 375°F (190°C). Since it's coated in PTFE, we don't recommend heating it empty. PTFE is best used for medium temperature cooking. It's arguably more helpful in letting you know when the pan is has cooled down enough to be moved or washed. Between the Thermo-Spot, the glass lid, and the thi ck induction base, you will be able to easily monitor your food while it cooks without fear of hot spots.
The T-fal HeatMaster has metal handles, on long and another short, so it is dishwasher safe and can be used in the oven up to 350 degrees.
Lodge 6-quart Cast Iron Enamel Dutch Oven
A pan as beautiful as it is versatile, the Lodge enamel dutch oven deserves a place in any kitchen.

Many people ask, "Can you deep-fry in a dutch oven?", and the answer is yes! One of the benefits are the thicker sides which will conduct the heat up from the burner, and heat the oil from the sides as well.

Lodge is known for its heavy duty and quality cast iron pans. Unlike their standard cast iron pans, this dutch oven is enameled. This enameling process creates a smooth glass surface that won't stick or react to ingredients. It also creates a beautiful and vibrant hue that will add a lovely pop of color to your kitchenware.
This pan can go straight from the fridge to the oven and is suitable for high heat and long cook times. It's great for everything from deep frying to baking. The versatility of this pan makes it the go to choice for cooking for many home chefs (including myself). Clean up and maintenance are easy. The enameling means you don't have to worry about the seasoning process like you do with the straight cast iron Lodge pans.
Aside from being available in a range of beautiful colors, the dutch ovens also range in size from 1.5 quarts to 7.5 quarts.
Cephalon Premier 13-Inch Non-stick Wok Deep Skillet
This is the most expensive pan on our list, and it is worth every dollar. The Cephalon Premier features hard-anodized aluminum that is dishwasher safe, stands up to metal utensils and can go into ovens up to 450 degrees.

While you might see this as being a saute pan, don't overlook the versatility. With 4.5 inch high walls and a 6 quart capacity, this pan can tackle anything you throw at it.
While Cephalon has long been a name synonymous with quality, this pan is truly a cut above. The nonstick coating is 40% longer lasting than that used on their classic line. The metal handle and rivets are designed to stay cool as you cool while still allowing the pan to be oven safe and dishwasher safe. The shatter proof lid is literally the cherry on top.
Once you have made your choice and have taken your new pan home, consider trying this Peruvian beef stir fry recipe!