If you've begun nurturing a passion for wok cooking, you've also realized that it's not so simple to do at home with standard cooking equipment. Don't worry, though, there's a way to get the full wok experience without a complete kitchen remodel. Here's the Best Outdoor Wok Burner to make your wok dreams come true.
Wok cooking necessitates an extremely high amount of heat, usually in excess of the 20,000 BTU the average Western home burner provides. These outdoor wok burners provide between 60,000 and 200,000 BTU at the upper end of the range making the signature taste and smell of wok cooking possible for you at home.
Keep it Safe: Outdoor Cooking with a Wok Burner
High heat is extremely important for wok cooking, and without a proper burner you'll never be able to properly replicate a classic stir fry. Stir frying involves continually tossing in a pan, like a wok, while applying extremely high heat to the pan. The average commercial restaurant wok burner usually runs at around 160,000 BTU.
These commercial wok burners are multi-headed jets set in a ring, all blasting extremely focused streams of heat. In many ways, these burners are to a kitchen what jet engines are to planes. They run extremely hot and focus their heat in right onto the bottom of the pan to get it hot extremely fast.
It's not all that realistic to install one of these burners in your home kitchen, and even in Asia very few home cooks have them. That's why these outdoor wok burners are a fantastic substitute as they are also designed to put out extremely high levels of heat in the 60,000 to 200,000 BTU range.
Why use a Propane Burner?
Propane burns hotter than natural gas. What's more is that these burners run on easy to find propane fuel tanks, exactly like the ones you use for your propane BBQ. They are also portable and can be set up nearly anywhere and can even be taken on camping trips.
They will be able to achieve the extremely high BTU output needed to properly use a wok but still remain affordable and utilitarian. They don't take a whole lot of expertise to set up or maintain and are still made out of high quality materials.
Some of these burners are also designed specifically for home brewing beer or deep frying, but the setup is much the same. They use similar high powered burners, similar design of regulator and hose, and the same propane fuel sources. Of course, they are also made out of heat resistant materials like cast iron to handle the extreme heat they produce.
What's the Difference Between an Outdoor Wok Burner and a Camping Stove?
It should be noted that these burners are not the same as your standard portable propane outdoor stoves. They are much bigger and almost always come with a stand. They're designed for uses with woks and giant pots, some up to 200 quarts, not just a small skillet like your average Coleman portable stove.
Some of these burners will require the addition of a wok ring to properly stabilize the wok, but these are very affordable and easy to find. Unlike with normal stove top gas burners, the addition of a wok ring won't really impact the heat level or temperature.
On a normal gas burner, the wok burner will add extra height and make the resulting heat slightly lower, as the wok is further away from the heat source. All these burners burn so hot that it is a non-issue, however.
Two Best Outdoor Wok Burners
Eastman Outdoors Portable Kahuna Burner with XL Pot and Wok Brackets
If you're in a hurry, this is our favorite outdoor burner for woks and pots. Take your outdoor cooking to another level with a dedicated propane wok burner.

Eastman Outdoors portable Kahuna wok burner wok burner comes ready to fit woks of all shapes and sizes and even large pots. The Portable Kahuna burner also comes from a well established line by Eastman that has cooking with woks as its focus.

Upgrade your outdoor grilling with this wok burner, sporting wide telescoping adjustable legs and a 65,000 BTU burner. Includes the hose and pressure regulator too.
This Eastman Kahuna Outdoors Wok Burner is an excellent place to start. This outdoor wok burner comes ready to fit woks of all shapes and sizes and even large pots. The Portable Kahuna burner also comes from a well established line by Eastman that has cooking with woks as its focus. It's sleek and sturdy and performs its job well.
Whether you are using a heavy duty cast iron wok or a light carbon steel wok, this outdoor wok burner has durable wok brackets that are designed to fit round bottomed woks up to 18 inches in diameter. The burner also fits pots up to 36 quarts.
It's telescoping adjustable legs can be adjusted to be anywhere from 18 to 26 inches and fold for easy storage. This is also a big bonus for cooking outdoors since it allows for easy setup and take down. Plus, if you can set it at the height that is most convenient for you to make cooking even easier.
The burner itself has an output of 65,000 BTU which is the right amount of heat for a scorching wok. This is slightly lower than some of the other burners listed, but it's hardly an issue. The wind guard make sure that the flames get onto the wok.
The secret is in the design. Since this is a dedicated wok burner, Eastman has designed the burner heat to focus in all of its heat right onto the center of the wok which ensures that the stir frying experience remains the same, even with a slightly lower BTU output. The other burners listed were originally designed as all around propane burners which means that while they get quite a bit hotter, in order to heat up large amounts of food quickly, they don't have as focused of a heat source.
It also comes with a CSA approved adjustable propane regulator and a hose with a burner shut off valve.
While this outdoor wok burner won't get quite as hot as some of the other burners on the list, it is up there in terms of portability. And since it is specifically designed for woks, it performs that job beautifully.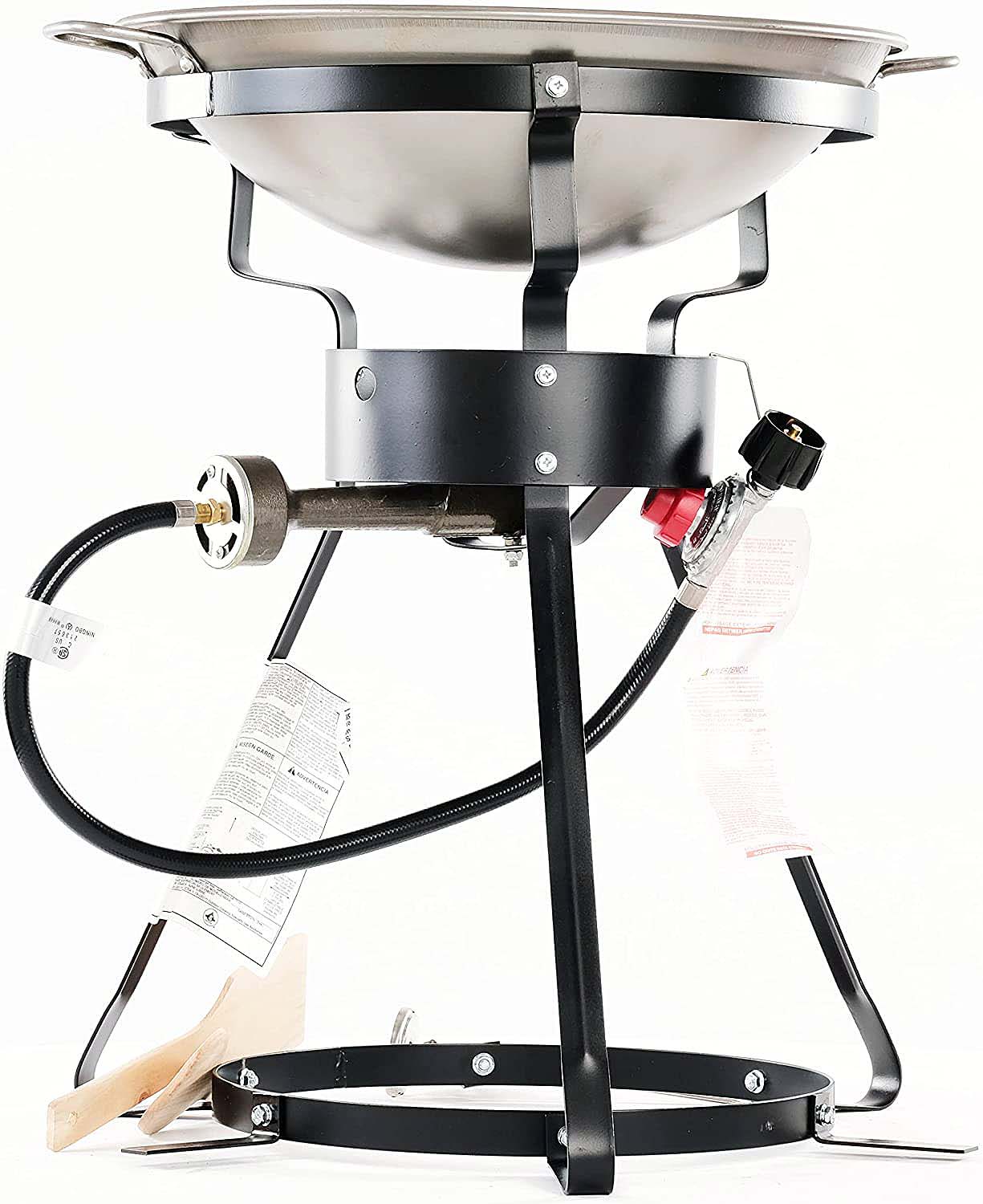 King Kooker 12-inch Portable Propane Outdoor Cooker with Wok and regulator
This one is awesome. It's light weight and ready for a big cookout. It's an sturdy 24-inch frame with an 18-inch steel wok.

The burner can pump out 54,000 BTU, and it comes with a regulator.

And it's a lot more affordable than the other options out there. Like photographed, it comes with the regulator and hose.
Multi-Purpose Outdoor Propane Burners for Flat Bottomed Woks
Concord Deluxe Banjo Single Propane Burner
The Concord Single Propane Burner is another excellent outdoor wok burner with slightly different features and focus. It's a bit heftier, has a very high BTU output, and can be used for different types of cooking techniques, including brewing.

Made of heavy duty cast iron with a weatherproof coating, this propane gas cooker is well suited to outdoor use.

It is also designed to be portable with detachable legs for easy storage.

This burner can also reach very high temperatures with it's absolutely staggering 200,000 BTU output. It can heat up both woks and huge pots extraordinarily quickly.
Keep in mind, however, that to fit a round bottomed wok on this burner you will need to buy a wok ring. These are cheap and easy to find and make the burner compatible with all types of round bottom woks.
Concord Deluxe Banjo burner is great for those who are into heavier-duty equipment, with more 'manly' character.
The strong legs and wide burner also make this suitable for pots up to 200 quarts. You can definitely make huge batches of wort for home brewing you custom beers too.
This is a perfect outdoor wok burner if you're looking to be able to use a wok at high heat and capture perfect wok hei or use it to pull off a fantastic Thanksgiving with a full turkey fried in oil.
There is one trade off with this burner however. Since it's not a dedicated outdoor wok burner, the heat won't be as focused. This burner is designed to handle massive pots in general, and disperses its heat over a wider area.
That being said, with the massive heat output this burner manages, you'll hardly notice a difference when you are using a wok and you will still have the added benefits of being able to use it for brewing, frying, or making pot-fulls of sauce.
Gas One Portable Propane 100,000-BTU High Pressure Single Burner Camp Stove
This GasOne Single Propane Burner is another excellent choice that comes in just a touch cheaper than the other options.

This high pressure propane single burner ensures that you get the most out of your fuel tank. Clocking in at 100,000 BTU, this has all the heat you need to get the job done.
It's higher output also makes it suitable for large pots alongside woks and just as good for brewing or frying.

This cast iron burner's hose includes a built-in regulator that allows you to control the heat directly from the regulator. This cuts down on some knobs that would normally be included on the burner itself, making for a sturdier and simpler construction.

Gas One's burner is great for chefs on a budget. Includes a adjustable regulator and steel braided hose.
The legs can also be adjusted, as with some of the other burners on the list, to ensure that the height of the burner is comfortable for you and make sense for your cooking arrangement. It's never fun to be bent over a wok all night or to be reaching constantly to and fro a too low or too tall table.
The legs are also adjustable and detachable making for easy transportation and storage when not in use.
All these factors make this outdoor wok burner another excellent choice, especially for those cooks running on a tight budget.